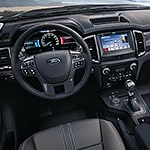 The Ford Ranger is a light-duty pickup truck. This popular Mechanicville, NY choice provides a stylish way to transport everything important to you. The following two features give you the versatility to haul it your way.
In a Ranger, you never need to decide which family members ride along for holiday shopping or other supersize cargo-bearing occasions. The Ranger SuperCab option gives you two bucket seats in front and a bench in the back. If you choose an XL model, you can even remove the bench.
If you have a family that goes everywhere you do, the SuperCrew option may be more your style. This configuration features full-size front and back doors, comfortable seating for five passengers, and under-seat storage in the back. A Jack Byrne Ford test drive would be an excellent opportunity to see how the Ford Ranger's design can revolutionize your life.