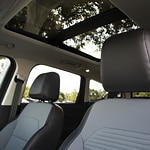 When you are looking for a practical vehicle to drive around Mechanicville, NY in with your family, the Ford Escape should come to mind. You will love the design of this popular compact SUV. It is a lot of fun to drive, and it contains many of the convenient features that you have probably come to rely on the most.
With the digital instrument cluster, you will be able to dictate exactly what information you see as the driver. The 12.3-inch display is quite handy as well. This means that you can safely glance at it and find out what you need in a hurry.
With the automatic liftgate, your key can stay in your pocket or purse. This means that you can have your hands loaded down with cargo ready to load. You no longer need to set everything down to get the tailgate opened. Check it out when you visit Jack Byrne Ford and take the Ford Escape on a test drive.