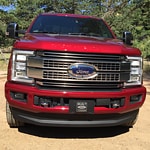 It's not unusual to want a ride that lets you do a lot more than your current limits allow; in fact, this craving for additional power is simply part of human nature. Luckily, such lofty goals are no longer out of reach. To achieve a new rate of productivity, Mechanicville's smartest truckers choose the distinctive Ford Super Duty. No heavy-duty pickup truck gets down to business better than this renowned masterpiece.
SYNC 3 is where a good chunk of the automotive magic begins. This profoundly dynamic virtual hub facilitates commanding oversight via extensive cyber integration. With SYNC 3, you can enjoy features like FordPass Connect, Sirius XM, and Android Auto compatibility.
Intensive towing capacities may also be astutely monitored in action by checking the My View interface. Ten different trailer profiles are included, so it's a cinch to observe the intricacies of your hitch in motion. To dispel any disbelief, just seek a test drive with Jack Byrne Ford.