SYNC Connect allows Ford Owners to stay connected to their vehicles in a way they've never been able to before.This available built in technology connects owners to their vehicles through FORDPASS on their smartphones.
With a SYNC Connect-equipped vehicle you can use FORDPASS to access advanced remote features:
Lock and Unlock your vehicle Doors from just about anywhere.
Remotely start your vehicle and climate control system
Set up a remote start calendar
Know what that warning light means
Check the current status of your vehicle
Locate your vehicle
A SYNC Connect-equipped vehicle must first be activated to access the above mentioned remote features. It is an easy three step process:
Download FORDPASS from the Apple Store or Goggle Play and create an account.
Add your SYNC Connect-equipped vehicle to your FORDPASS account and tap activate.
When you start your vehicle you will receive a message to allow the connection. Just tap allow.
For more detailed instructions follow this link to Ford.Com: 
How to Activate SYNC Connect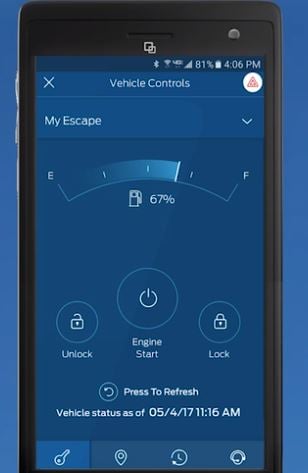 Sync Connect is an optional feature on select 2017 and newer model year vehicles