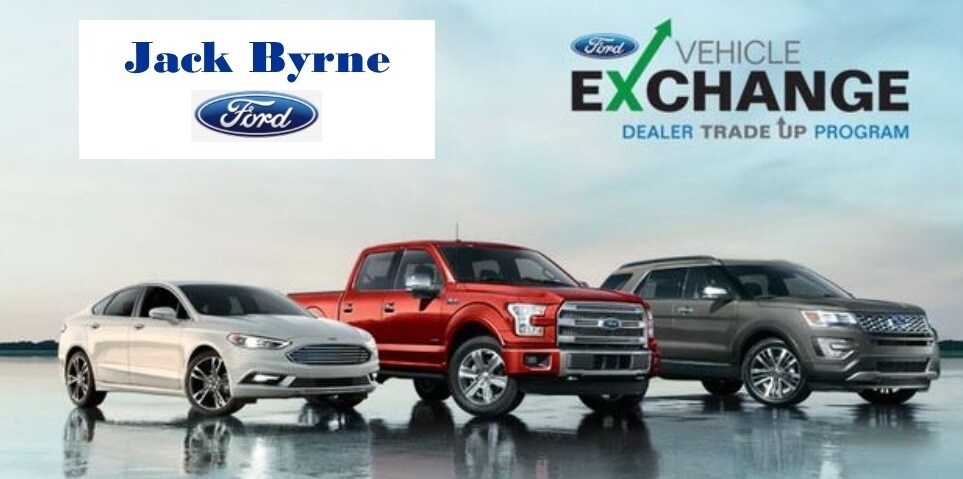 | | |
| --- | --- |
| Here at Jack Byrne Ford, our goals are simple: to do business the way you want to do business and to save you time and money! That's why we're excited to announce our Jack Byrne Ford Vehicle Upgrade Program. Below are some of the frequently asked questions on this program, but feel free to reach out to us directly to learn more. | |
We're happy to offer our customers a FREE consultation and evaluation so that you can get informed and know exactly what your options are. 
Frequently Asked Questions:
What is the Vehicle Upgrade Program?
It's simple, you currently own or lease a vehicle and we want to upgrade you to the newest model with similar or even lower monthly payments.
What are the benefits to me?
There are numerous benefits but it comes down to getting the newest model, only at the same or lower monthly payments without all the hassle. It's a quick and easy key-to-key exchange that aims to lower your monthly payments while getting you better financing terms, higher fuel efficiency, reduced maintenance & repair costs, increased safety & security features and brand new comfort & entertainment technology.
 What's the gimmick?
There's no gimmicks here. We are looking to significantly increase our Pre-Owned Inventory over the next six months. By offering this program, we are able to save you money and upgrade your vehicle for you. As further proof that there are no tricks, we offer no pressure, no obligation, FREE evaluations to determine if your vehicle has equity enough to qualify for the upgrade program.
Even if it's a similar monthly payment and quick & easy to upgrade, I like my current vehicle, why do I need a brand new one?
We fully understand falling in love with your vehicle here at Jack Byrne Ford. However, there are significant benefits to getting even just the next model year newer of the same vehicle, and the benefits significantly increase the older your vehicle is. It's true with all manufacturers, each model year newer comes with better safety features, higher fuel efficiency and the latest technology. So the savings and benefits are ongoing!
I'm intrigued by the program and would like to hear more before coming to the dealership.
That's not a problem. As mentioned above, we want to do business the way you want to. You can give us a call at your convenience, text or email us. Just let us know upfront your preferred method of communication. If you'd like to get started at home, we offer convenient tools on our website that allow you to appraise your own vehicle and even choose your upgrade.
Give us the opportunity to save you money and you won't be disappointed!
Schedule Your Free Consultation:
Hours
Monday

9 am - 6 pm

Tuesday

9 am - 6 pm

Wednesday

9 am - 6 pm

Thursday

9 am - 6 pm

Friday

9 am - 6 pm

Saturday

9 am - 5 pm

Sunday

Closed